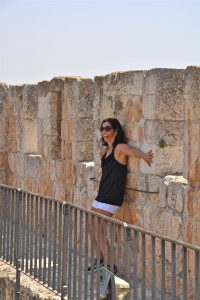 I have been asked to participate in a blog-hop that involves posting the answers to four specific questions, and then inviting three other bloggers to do the same.  My bio and link appeared last week on the website of writer Jennifer Lang.  Jennifer has a refreshing and international perspective on life.  Through this process I discovered that like me, Jennifer is a nomad, and now actually lives in Ra'anana, Israel, my hometown!  Small world.  I am to post my answers on April 21, so happy Monday everyone. Unlike so many of the accomplished women in Caren's circle I have not been a writer my entire life unless you consider the heaps of letters, either mannerly or menacing that I have drafted during my years as a lawyer. People often comment that attorneys are natural writers, but I can assure you that that is not the case.  So I am just holding onto the wall for fear of falling, but the thrill is sensational.  I have a somewhat unconventional background that has afforded me endless stories and topics, yet it has taken me a long time to have the guts to publicly emote and open myself up to the consequences.  While I have many opinions and am not afraid to voice them, age has provided me with a bit more perspective and has reigned in my inner loose cannon.  I am naturally sarcastic but mostly in a humorous way.  In reality, I probably take life way too seriously but make it a habit to laugh at myself at least a few times a day.  I am currently working on two very different manuscripts and on my phobia of living this far outside my incredibly private comfort zone. It occurs to me that before I answer these four questions (for those of you who celebrate Passover, answering four questions just as the holiday is coming to an end strikes me as divine somehow) I would like thank you all for the mammoth awe-inspiring support and generosity you have shown me.  Even the critics (especially the critics?) have been thoughtful, thought-provoking and incredibly insightful. MERCI BEAUCOUP MES AMIES… 1) What am I working on/writing?          I am working on writing stories about the two years I spent in South Africa during the height of Apartheid.  I am also working on a manuscript with a friend relating to her business, but I am not yet at liberty to share the details as the story belongs to her for now.  I am freelance writing for a local publication and enjoying the creativity and energy of my editor.  Finally, I am attached at the hip to my blog.  I write every day and only post when I feel the story is ripe.  I use mainly my own and family photos to keep it personal and real.  On my blog I also share recipes that are simple, healthful and quick.  They are part of my hectic yet healthy lifestyle and play a significant supporting role for me day-to-day.  Perhaps in a year or two they can be compiled into a cookbook for real non-Martha Stewart parents who still want to eat fresh and live well. 2) How does my work/writing differ from others of its genre?          It is too early for me to judge my work.  I have a hard enough time calling myself a writer, as that implies a credible, marketable status that I have not yet earned in the two short months I've been doing this.  I am going to get blasted by my writing group for making this last statement.  I have been told that my writing is relatable and honest.  That is the highest form of compliment for me because in my blog I promised to open and share my chaotic life and commentary in the hopes that we can all relate and share a laugh.  Life and parenting in particular, can be challenging, which is the reason so many blogs out there address these topics.  But the myriad of issues create endless opportunities to laugh, cry and consider the possibilities and permutations. 3) Why do I write what I do?          I write because I have to.  It is not a choice in the sense that I am driven to spew words onto paper (or more realistically, type pathetically slowly on my Mac) with a force that feels outside my control.  It's how I think, how I process, how I celebrate, how I grieve.  I also have a collection of unsent letters that have helped me cope with many feelings and situations over the years.  At times, I was hasty enough to actually mail one or two.  My stories must find a way out of my head.  I am plagued with a sharp memory and I am haunted by these stories and memories.  I don't care about getting published – I just care about writing.  Although any publishers reading this should contact me without any hesitation. I will return your emails after recuperating from passing out. 4) How does my writing process work?          My writing process is like giving birth.  An idea gets implanted in my head and from there it grows.  Once it's up there and I become conscious of it, I nurture it in my mind and hope that it continues on a healthy path.  Sadly sometimes it does not survive.  But when it does, it grows and morphs into a multifaceted concept that develops into a story.  I've noticed that I'm not always conscious that it is developing, yet I know when it is time for it to emerge.  I may step out of the shower, or back into my house after walking my dog, and I become aware that I've composed an entire piece through a running dialog with myself.  And no, I don't normally hear voices if that's what you're worried about.  Suddenly, I become acutely aware that it is happening, like water breaking, and I race to my computer to give birth.  I then read and edit about 20 times before allowing it into the public eye.  And I'll admit that many times I seek an opinion or three before hitting "post." Featured below are my three fellow blog-hoppers who will post their answers on their blogs on April 28, and ask three other bloggers to do the same the following week: Mary Novaria: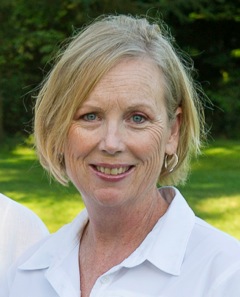 Journalist Mary Novaria blogs for the Huffington Post and is putting the finishing touches on her upcoming memoir, "Senior Year." Mary left her role as a not-for-profit communications executive when she found herself in the throes of the "sandwich generation," raising teenagers and caring for an ailing mother—essentially living between two slices of bread while trying to maintain her sanity, a sense of humor and some semblance of grace. She and her husband recently relocated to Los Angeles from the Midwest. You can follow her on Twitter @MaryNovaria and find her blog, A Work in Progress. Jillian Deutch Kaplan:
Jillian Deutsch Kaplan is a writer, attorney and entrepreneur. She holds a Bachelor of Science in Psychology from Union College and a Juris Doctorate from Albany Law School. She practices commercial litigation, bankruptcy, estate and family law and was an adjunct business law professor at Champlain College. She also served on the board of directors at The Children's School. Jillian rediscovered her creative side after having children. As a stay at home mom, she owned and operated Kalax Creations, a retail craft business named for two of her children, Kaitlyn and Alexander. After her third child, Jocelyn, was born, she wrote "What Mess?" (Ridley-Brook Publications) in honor of her daughters. She is a public speaker, empowering laypeople to tackle legal issues and inspiring children to become writers. Currently, she works as a college application coach and writing tutor.  You can follow her blog, Defying Protocol.  Hilary Daninhirsch:
Hilary Daninhirsch is a graduate of the University of Pittsburgh School of Law.  In 2000, she left the practice of law to raise her children and establish a freelance writing career. Hilary now writes for both consumer and trade magazines on a multitude of topics. She is a regular contributor to Housetrends, SHADY AVE Magazine, The Jewish Chronicle of Pittsburgh and North Hills Monthly.  Her work has also appeared in Ohio Magazine, LongWeekends Magazine, Dance Teacher Magazine and the National Jurist, and she's written book reviews for Mystery Scene Magazine, Historical Novels Review, ForeWord Reviews and Jewish Book World.  She also has a passion for writing children's poetry.
Hilary lives in the northern suburbs of Pittsburgh with her husband, two redheaded daughters and a needy canine of undetermined parentage.  When she's not writing, she's either driving a child to a myriad of activities or she's reading—or both.