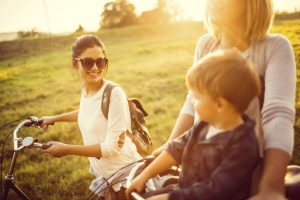 I learned my lesson the hard way years ago: I don't seek out friendships with my kids' friends' parents.
When my son was 9 years old, he befriended two boys whose mothers were close friends. Inevitably we got sucked into their dynamic by accepting a dinner invitation here, a family cookout there, and of course reciprocating. Their families mirrored each other, sharing same gender and age kids, as well as an obsession with sports, partying, and "being cool."
On more than one occasion I heard one of the moms say, "I'm easy-breezy, so just be cool." I wasn't sure what that meant, considering she was not exactly easy-going and loved to be invited over, but never invited me to her home because that entailed cooking and cleaning…
I had very little in common with these moms and my husband had even less in common with their husbands. My then 5-year-old daughter was the youngest and the only girl in the group, and I spent an inordinate amount of time keeping her from walking in on endless vulgarity on YouTube and overhearing profanity. Maybe I'm not cool, but I wasn't into my young kids using "douchebag" in every sentence.