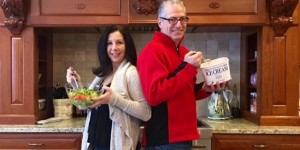 "I'll have the salmon, medium-well with no couscous, and extra grilled asparagus on the side. I'll start with the house salad–hold the cranberries, cheese, walnuts and croutons–and please put the balsamic vinegar on the side. Oh. And I'll have water with very little ice and lemon on the side." The more side plates the merrier.
I'm possibly worse than Sally from When Harry Met Sally (minus the fake orgasm), but my husband, who–get this–is a doctor, is easy: "I'll have the mushroom burger, fries, extra onion rings and a milkshake. And a house salad with ranch." He then turns to me and asks (after 29 years together), "Should we start with the nachos?"
Really? Do you want an extra side of lard with that heart-attack-on-a-plate?