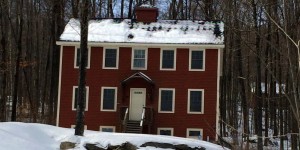 We were selling the perfect house. It should've sold in an hour after an aggressive bidding war, but instead it dismally sat on the market for almost three years, thanks to Vermont's most devastating natural disaster in 85 years.
When we lived in New Jersey and could finally afford it, a second home in Vermont was a dream come true. My husband's work hours, compounded by a daily hellish commute into Manhattan, left little quality family time during the week. Our weekends in Vermont became a sacred heavenly retreat.
We first saw the house online and instantly fell in love with its charming New England feel. Although it was relatively new construction, the house was built to look like an old post-and-beam barn with beautiful wide-plank floors, a new kitchen and bath, and a double-heated garage. Because it was over our budget, we obsessively tracked it online, stalking the real estate website nightly. When the price dropped, we pounced on the opportunity. Even after the price drop, we knew that we overpaid but justified that we would keep it forever, so resale considerations were not an issue.
Yeah, right. 
CLICK HERE TO READ ARTICLE AT HOUSE BEAUTIFUL
CLICK HERE TO READ ARTICLE AT ELLE DECOR
CLICK HERE TO READ ARTICLE AT COUNTRY LIVING