When my daughter was born, my mother gave me a comb that my grandmother Ella (born Esther) had given her. That comb, it turned out, had great history attached to it.
My mother first found the comb in my grandmother's jewelry box when she was a teenager, and her questions about it were answered quickly and clinically: She had kept the lice comb with her (and hidden from guards) in a Nazi slave labor camp.
While my grandmother maintained her secrets, the comb must've meant the world to her to have kept it and safeguarded it all those years later, a world away from ever needing it again.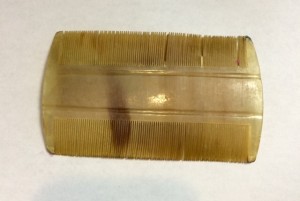 CLICK HERE TO READ ARTICLE AT COSMOPOLITAN
CLICK HERE TO READ ARTICLE AT WOMAN'S DAY
CLICK HERE TO READ ARTICLE AT GOOD HOUSEKEEPING
CLICK HERE TO READ ARTICLE AT REDBOOK
CLICK HERE TO READ ARTICLE AT SEVENTEEN
CLICK HERE TO READ ARTICLE AT HOUSE BEAUTIFUL
CLICK HERE TO READ ARTICLE AT ESQUIRE
CLICK HERE TO READ ARTICLE AT COUNTRY LIVING
CLICK HERE TO READ ARTICLE AT TOWN & COUNTRY
CLICK HERE TO READ ARTICLE ON YAHOO NEWS