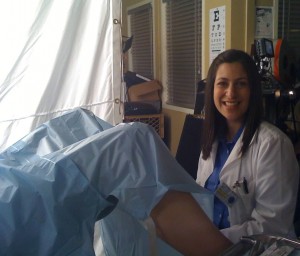 My friend texted me from the doctor's office in a total panic. She had already been waiting for 40 minutes and was feeling impatient, anxious and annoyed. At least she wasn't already in the examination room naked and shivering under a thin paper toga. She had spent significant time in the last two weeks getting diagnostic tests and blood work, so she has had her fill of waiting rooms. As a multi-tasking, type A overachiever who hates wasting time, I began to wonder if it's a coincidence that patients need patience…? 
Although I come from a family of doctors including my siblings, father, husband, various in-laws, and many doctor friends, I genuinely hate going to the doctor.In college I was a pre-med major for one semester until the biology 101 dissection lab weeded me out as squeamish and unsuitable. I quickly regained my composure and plunged myself neck deep into a major that did not involve blood. So being both impatient and queasy, I avoid doctor visits as best I can.
I polled several doctor friends regarding the inevitable back-up and wait at their offices and their responses were remarkably uniform and obvious (I should've given it some patient thought). While sometimes doctors start their office visits first thing in the morning, afternoon office hours can follow a morning spent in the operating room, where the unpredictable nature of the very services performed can throw off an entire day's schedule. Emergency add-on cases and surgical complications by their very nature contribute to delays. Doctors are the first to admit that they wish everything would proceed in a timely manner, not just for the obvious success of the case, but also so that they can eat a five minute lunch before rushing to their offices for eight more hours of work.
The most obvious delay, which for some reason escapes so many of us (including myself when I'm on a rampage at the receptionist's desk barking "how much longer?!") is the fact that we are talking about human beings with differing needs and many, many questions. My husband has asked me to explain to him how in my humble opinion he can possibly stay on schedule when he has no way to predict how many questions a patient will have, what complications may arise and how much time she will need.  He also challenged me to explain to him how I would feel if my doctor told me that she has ten minutes and no more to spend with me because she has to stay on track.  The ones who care and take their time run late and that's just how it is. But I'm impatient and stubborn, so that's a hard pill to swallow.
I still cannot help but wonder, doesn't my time also matter? I have places to be and things to do and wish the doctor's office could call me before my appointment (perhaps using the cell phone number they insist that I provide) to say that the doctor is running late or is now over-booked due to an emergency. I would probably feel annoyed, but less annoyed than I would after arriving, sitting forever and missing other things I had planned for that day. Shouldn't I have some degree of control over whether I choose to spend several hours or reschedule for another day?
When a service technician or utility company give us a four hour window of time that we have to remain at home to wait for service, we stay at home and wait. Sometimes they don't show up, but other times they may even call to say they are 30 minutes away. The difference in our tolerance to accept this arrangement versus our intolerance at the doctor's office is perhaps due to the anxiety that we feel when we are sick or just vulnerable physically and mentally. Is it wrong to want immediate gratification and some consideration under these circumstances?
My friend from this morning did relay to me that she had a long list of questions to discuss with her doctor including the research she conducted online prior to her appointment. She spent a long time speaking with him and felt assured that he thoroughly addressed all of her concerns. They came up with a solid plan of action after putting all the pieces of the puzzle together. Her relief was palpable,  but I couldn't help but wonder how the impatient patient who followed my friend's appointment was feeling while she waited to be seen.