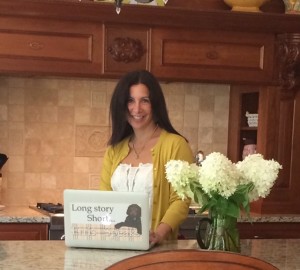 It's been awhile since I lamented the deterioration of basic manners, and although this is nothing new, today I'm fired up about cell phone use.

Arguably, the advent of the cellular device has made our world smaller. Grandparents can Skype grandkids (assuming they can figure out the app), parents can text their kids at school (yup, that's me), and photos and videos can be instantly shared.  Has this technology made us closer?  It has made us more available, but not more accountable or personally connected.  Especially not with the way we all use it.
In my house the landline phone has grown extinct.  On the rare occasions it rings, no one moves.  "It's just a telemarketer," we comment from a bent position over our individual cellular crack.  Noticing that it has in fact become an addiction, we banned cell phones at the dinner table, both at home and at restaurants, a long time ago.  But what about the car ride?  My kids are not the only ones guilty of riding like zombies, getting their last licks of screen time before entering a restaurant.  I've had to self-impose a time-out — leaving my phone in the car to avoid the temptation of glancing at it between courses.  What is so important that it can't wait?  This is a self-directed rhetorical question.
A friend recently told me that she refused to have lunch with another friend until she put her cell phone away.  I wish I had the guts to tell a non-family member to lose the phone. Another friend commented about the six phones on the table at a recent luncheon we attended.  Everyone chuckled, but kept the phones sitting on the table, like props beside the wine glasses.  At a dinner several weeks ago, an acquaintance spent the entire evening managing what she called "a situation" with another group of friends on her phone, which was constantly lit with incoming texts.  Considering that she initiated these dinner plans so that we could "get to know each other better," I was flabbergasted. If this is her behavior on our first date, what would the future bring? I was marginalized to the comfort of my wine glass and the conversation of the guys.  I sat there wishing I was at home in my pajamas indulging in popcorn and reality t.v.
I certainly understand keeping the phone on and checking periodically for babysitting emergencies, but wonder how we did it in the old days?  I can distinctly remember my parents providing babysitters with the name and phone number of the restaurant they were to visit, in case of an emergency.  But technology prompts babysitters to text us for the most banal reasons.  Is it okay for a babysitter to interrupt a dinner to ask if a child is allowed to stay up past bedtime or have an extra bowl of ice cream?  Just because we have this connection tool, does it mean we can't disconnect for a while and really connect with the people we intentionally planned on spending the evening with? And what are we teaching our kids about self-sufficiency, rules and limits? By engaging 24/7 we are sending the message to others that messaging us 24/7 is okay.
As my kids are now teens with independent social lives, my husband and I find that we are keeping track of their whereabouts and doings throughout our evenings out.  We have an agreement that texting us instead of making calls within earshot of their friends, is a safe way to communicate with us.  This means a minimum of hourly glances at the cell phone, while we're out.  The fact that my son now drives, adds an extra layer of independence mixed with lots of paranoia.  He no longer relies on us for rides, but we now rely on our phones to ensure he's safe.
Arguably, we have the option to disconnect, not answer and not engage.  Being the number one transgressor, I can attest to the fact that it's not that easy.  I have to forcibly extricate myself from the screen, and have promised myself that unless absolutely necessary, I'm demoting my phone's status.  Maybe publicly sharing will shame me into submission.  "Let's see how long that lasts," my husband commented and stifled a noticeable smile.
Although I could hypocritically go on for pages on this topic, my final indignant thought revolves around the reams of text we send instead of just making a call and having a real conversation.  I've caught myself composing entire manuscripts on my phone instead of making calls!  I suspect that the unpleasant reality is that we text in order to avoid speaking. We pretend that it's because we don't have the time, but I have a hard time buying into that.  These texts are a discharge of an obligation more than a way of truly connecting.  Even congratulatory messages are discharged with a text instead of human interaction.  And I'm starting to resent these as much as the obligatory Facebook "like," which sends the message "duly noted," but nothing more personal.
The other day I nearly ran a neighbor over with my shopping cart because I was so busy checking my phone as I shopped.  Later that day my teen yelled at me for checking texts at a red light. I rationalize that checking throughout the day helps me avoid a deluge, thereby freeing up more time for my family — but I know that's not true. I'm going to have to impose further sanctions on myself.  And I'm pretty sure that in the process of electronically disconnecting, I will re-engage with my friends and family in a more meaningful way. Wish me luck.