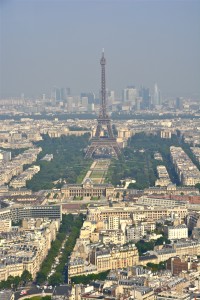 Living in the New York Metro area for so many years, I took the proximity to major international airports for granted. The Paris-Pittsburgh non-stop is currently the only direct gateway to Europe from Pittsburgh.  It's great option on its own, or as a connector to other destinations. This past summer, we connected through Paris as part of a longer trip, and spent five crazy days in the city of light and love. 
Traveling with teenagers is arguably easier than traveling with toddlers, except for their opinions, complex dietary needs and extensive sleep requirements. It's not as easy as it seems to get your twelve year old daughter and sixteen year old son to share a room and bathroom with relative harmony, or at least with minimal disturbance to the rest of the hotel's occupants. And somewhere along the way, an acknowledgement of their appreciation for the opportunity to travel is always a welcomed respite from the bickering and running commentary.
Before embarking on our journey, we polled our kids regarding their interests and wish-list for their first time in Paris. We tasked them with doing some research on their own to promote a feeling of personal investment. We allotted five days to this segment of the trip, and having spent time in France numerous times sans kids, we were happy to oblige their requests. By some divine act of intervention, they actually consulted each other and came up with a mutual wish-list that included the following "must see" places: Monet's Garden in Giverny, The Eiffel Tower, Versailles, The Louvre, and the Arc de Triomphe. Voila! My husband was happy to allow me to plan the rest of the visit at my discretion – a big mistake on his part, as I immediately set to planning and cramming as much as I possibly could into each of our five days. I ordered Paris Passes (I avoid standing on line at all costs) and created an itinerary that resulted in my new nickname, Jack Burns, from Meet the Fockers. For clarification, I did not have a clip board, aviator sunglasses or a bad attitude.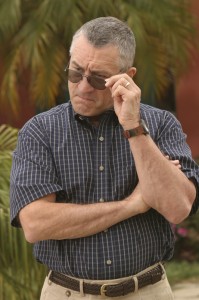 If you're interested in leaving your hotel before 7:30 each morning, and returning close to 10:00 pm with swollen, blistered feet, you are my kind of traveler.  Admittedly, I have a lot of energy in general, but when it comes to traveling, I love the thrill of the chase and cannot control my need to keep going. Visiting the Louvre during dinner time and avoiding the crowds, getting prime seats on a river boat, having advance tickets to the Eiffel Tower illumination and cutting any line, thrill me as much as the attraction itself. But the best part of travelling is experiencing new and old adventures through my children's eyes.
When we look at photos and reminisce about our trip, I'm amazed at what is most memorable and impressive to my teens  On a particularly humid day we decided to ride the funicular instead of climbing the steps to Montmartre. We were jam-packed with other hot and sweaty tourists who forgot to apply deodorant, and when the doors opened we were spit out into throngs of humanity. The view from the top was not as fascinating to my kids as the fist fight between a mugger and his would-be-victim, who was having none of it and fighting back with impressive joie de vivre. After spending many Euros on miniature Eiffel Towers, sweatshirts and keychains, we wolfed down chocolate crepes served by a snooty and non-English speaking waiter. My kids are still talking about him too.
My daughter likes to reminisce about a skill she acquired, and fondly refers to as The Mona Lisa move. This maneuver works for girls of a short stature and consists of elbowing your way through a thick mass of tourists wielding giant camera lenses, while uttering "excusez moi."  In spite of no ticket lines and smaller crowds at the Louvre during dinnertime, Mona still draws quite the hordes. She learned the The Mona Lisa Move that morning when we visited Versailles, along with ten million other hot and bothered very tall people. Admittedly, I was already wound pretty tightly on our way into the palace because the ticket holders line was a mile long. How did that happen with my Jack Burns planning?! My kids also enjoy talking about the little scuffle I got into with another tourist who tried to cut in front of us, obviously not realizing that I had just spent 11 days in the Middle East, and was equipped to hold my own. (I can say things like that because I am from there.)
Selfishly speaking, my next (ideal) visit to Paris would include walking through the Latin Quarter, sitting in sidewalk cafes, watching people for hours while drinking coffee or wine, after a long morning of shopping – sans kids. But this trip was about introducing them to Paris and that we did. We even placed a family lock of love on the bridge of locks. The photo below shows them throwing the key into the Seine. Yes, it was kitschy and very Kardashian, but we loved it. Later, while on a riverboat below Paris's many bridges we noticed that several bridges were "bridges of locks" and consequently we have no idea where our family love-lock is actually placed.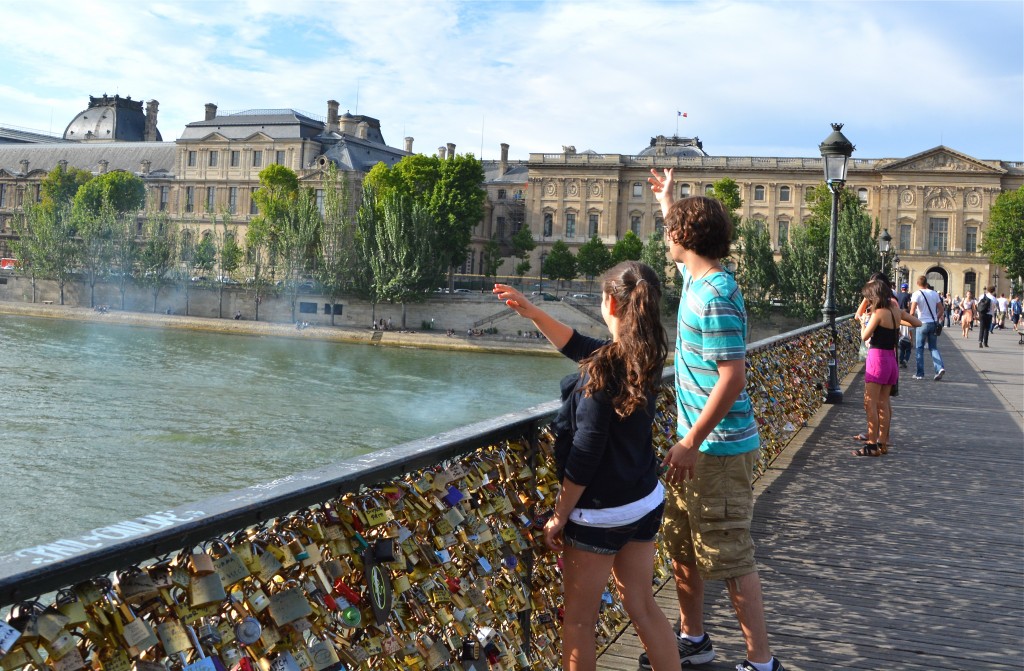 I cringed at feeding my children chocolate croissants for breakfast, and having some form of nutrition-void-bread, cheese and dessert at every meal that followed. I personally consumed more sugar, carbs and processed food in five days than I had the entire previous year, yet could not figure out why French women are so slim, fit and chic. Maybe it's all that smoking.
While our five days in Paris were long and exhausting, I would not have traded them for anything. I would like to think that we were exhausted because we had already been travelling for almost two weeks before we arrived in Paris, but I know that that is not true. I am a planner, a mover and doer and the type that crams as much as I can into every day of my life. Why should a vacation be any different? Just ask Jack Burns.