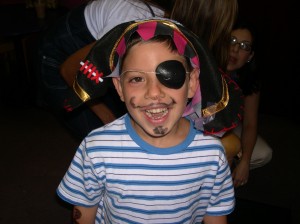 When I had my first child, a friend from work stopped by to visit.
"How are you doing?" She asked.
"Great." I said, forcing a smile onto my tired face.
"You're tired, you're in pain, and you feel guilty for not feeling ecstatic 24/7," she summed up.
I have felt grateful to her for the past 17 years for teaching me that it's cathartic and helpful to be honest with other moms.  We are not perfect, our feelings are normal, and we don't love our kids any less when we express our deep dark secrets.  Therefore, without further guilt or adieu, I present my top five mommy confessions:
1.  Many of us hate being pregnant.
The first time around I was euphoric upon seeing the little pink plus sign.  I couldn't believe it happened so quickly and was too busy counting my blessings to complain.  But within days, morning sickness became my constant and hated companion, and my good attitude went down the toilet along with every morsel of food I ingested.  My second pregnancy filled me with terror at the outset, as I knew what the next eight months had in store.  This is a tough confession for many moms, because we feel blessed and beholden, and don't want to jinx the baby with negative thoughts surrounding our disappearing waistline, perpetual cravings, commensurate nausea and wild mood swings.
"Of course I'm happy, dammit!" I would yell at my husband, before collapsing onto the couch.  When people told me I was glowing, I explained that the heartburn was probably searing me from the inside out, causing a reddish tint.  While many women love being 'with child', too many others can't wait to for it to be over, and again become normal human beings who happen to be mommies (if that's possible).
2.  Many of us are just not baby people.
I was (am) beyond overprotective of my babies (borderline insane, according to my in-laws).  The sanitary procedures I adhered to are no doubt the cause of their allergies today.  My sleeplessness began after my first son (now 17 and heading off to college) was born and I was afraid to fall asleep, lest doom would descend upon him during the night.  I nursed, rocked, sang and cuddled, but was relieved when he and his younger sister became little people who could walk and talk.  I don't feel the urge to look, much less touch or hold babies.  I'm that oblivious mom who walks through the mall and doesn't peek into strollers.  Upon sharing this shameful deficiency with other moms, I discovered that I am not alone – the second X chromosome doesn't naturally dispose women to baby holding-touching-snuggling urges.
3.  Many of us don't like Disney movies.
My issue is not so much with Disney, as it is with animated movies.  My husband loves them and has seen (and purchased) every animated film produced in the last 17 years.  He looked forward to his seat on the couch between our daughter, dressed in a princess gown and tiara, and our son, with his eye-patch and sword, to watch the latest and greatest Disney offering.  I was not-so-secretly relieved when too many stuffed Disney toys strewn among them, left little room on the couch for me.  It meant two hours of uninterrupted reading time (almost guilt-free).  Even with famous adult actors narrating, I just don't enjoy penguins (that's what the aquarium is for), cars (I know life is a highway – I carpool), the princesses (does the mother always have to die?!) or Frozen (heaven forbid, I know I'm the only one who hasn't seen it).  It's just not my thing.
4.  We don't always like other people's children. 
Females are not programmed to automatically like other people's children.  Just because they're kids doesn't mean that their behavior is cute.
When my kids cried or were disruptive in restaurants, one of us immediately removed them from the scene of the crime.  We recognized that just because we wanted to be out in public, didn't mean subjecting others to tantrums. And let's face it, they're kids.  Stuff is going to happen.  When my son was two he hurled a slice of American cheese across the table, landing it square on the shoulder of an unsuspecting diner.  The second our kid misbehaved, we apologized and bolted in order to avoid ruining someone else's dinner. I've done my time on the sidewalk and have eaten many cold meals.  I've earned the right to dine out without having my eardrums pierced.
5.  I don't hate Barbies.
I'm a feminist, a lawyer and a writer.  I tell my teenage daughter that even if she chooses to be a stay-at-home-mom, she must obtain an education and a sustainable means to support herself.  It doesn't take much to realize that Barbie is a disproportionately buxom little hussy with hair that doesn't resemble anything any of us would deliberately sport.
When she was little, my daughter adored picking out outfits for her fifty or so Barbies.  She laid all the shoes and accessories out on the carpet in neat rows, and spent hours putting together fashion shows.  I don't think she aspired to look like Barbie and I don't think she gave Barbie much thought past the immediate game (and definitely not once she was onto Polly Pockets).  I also don't thinks she gained a better sense of self, or developed higher aspirations after playing with the purportedly more sophisticated, I-Want-To-Be-A-Doctor Barbie and her pretend medical accoutrements.   Ironically, she does talk about going to medical school, but I doubt Doctor Barbie had anything to do with it. Sometimes, Barbie is just Barbie.  A toy, no different than the bubble headed Bratz, which are equally as disturbing or innocuous depending which way you slice it.
There you have it – my shameful mommy confessions.  I feel clean and dirty all at the same time. Now, won't you share yours?