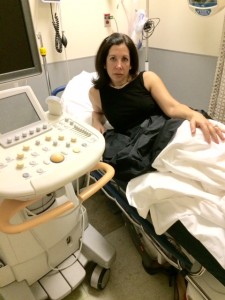 My mom still reminds me to wear lipstick (I hate lipstick), but she no longer mentions wearing nice underwear. Maybe she trusts me now that I'm 46, married and a mom. For years I wondered why it mattered, until I grew up and caught on; however, I'm pretty sure she was referring to cases of extreme emergency rather than one-night-stands. Considering she regularly combed through my closet with the stamina of a professional organizer, I never had the chance to own a yucky pair. Recently I humbly learned that Mom was right.
While securely clad in objectively "nice" underwear beneath my party dress, I sipped wine and chit chatted at a gala, when out of nowhere I felt a twinge in my lower abdomen. I did my best to ignore it, but it grew into an irritating ache. By the time dinner was served, the stabbing pain was impossible to ignore.
As luck would have it, I was seated between my husband (a gynecologist) and my friend (my personal gynecologist). While I was desperate to make it to dessert (I really needed the sugar and caffeine), it became apparent that our evening out was about to end. I was mortified to admit that we needed to excuse ourselves, lest I simulate labor (sans baby) in the middle of the award ceremony. My GYN and husband walked me to the elevators while discussing the pros and cons of a sonogram in the emergency room that night, versus the next morning. Hello? I can hear you.
I have a strong aversion to all things medical (there's a reason I went to law school), especially as they pertain to my own body, and a sonogram seemed harmless enough, but there were other considerations to weigh. Luckily, the mounting pain and nausea didn't cloud my judgement. I was able to focus on the pertinent issues in order to make the right choice and advocate on my own behalf as a patient:
Was I waxed? Check.
Did I shave? Check.
Freshly showered? Check.
Pedicure? Check.
And most importantly, what underwear was I wearing? Check, check, check! (Thank you Mom.)
"Okay, I'll go to the ER," I told my unsuspecting husband, who figured my cooperation was pain-induced.
I know I'm not the only one. Many women adhere to a personal hygiene checklist before seeing the doctor, but being caught with your pants down, puts a dent in that routine. "Are you putting on lip-gloss?" My husband asked incredulously on the way to the ER. "My lips are dry," I lied. I figured that since Mom was right about the underwear, she was probably right about the lipstick too.
If you've spent any time in an ER on a Saturday night you know that the staff has seen it all. "You didn't have to get all dolled up for us." I stammered something about having to leave a black tie event. An attentive nurse noticed that I had no coat and brought me a heated blanket. The blanket was tossed aside by the ultrasound tech who was worried that the lint would ruin my dress. Such attention to detail! Thank goodness I was wearing solid underwear.
"Please take your underwear off and put on a gown,"  I was instructed.
But I'm wearing a cute pair – doesn't anyone want to see it? For Mom's sake?
The sonogram revealed that I was not in fact dying, which was a huge relief and that my ruptured cyst would most likely resolve on its own. I was also advised that I'm not pregnant – another refreshing revelation that hadn't crossed my mind. No one saw my underwear that night and no one seemed to care, but Mom can take the credit for my clear judgment and priorities.